Have you considered hiring a coach, minivan or minibus with a driver for your holiday transport needs? Chauffeur-driven coach hire is a convenient solution that will let you travel through city and country with ease. Your driver will pick you up at the airport and take you to your hotel. He will then drive you wherever you want to go throughout your trip. With our efficient and reliable service, you can enjoy your holiday without worrying about transport, parking and getting around town. Renting a bus with a driver also means you can visit neighboring towns which would be difficult to reach by public transport.
Hiring a bus with a driver for your holiday means ensuring an easy journ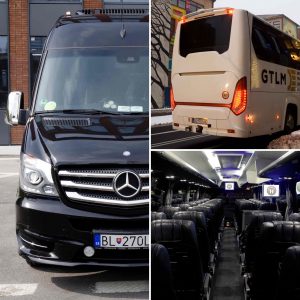 ey with no travel complications. Want to enjoy your holidays without worrying? Contact us and we'll drive you wherever you desire.
GTLM Buses coach and minibus rental with driver services are available throughout Europe, mainly in Bratislava, Vienna, Prague, Budapest etc.
GTLM Buses has top of the line coaches with the latest in rider comfort, driven by highly experienced and professional drivers.
Contact us today for a customized quote for the hire of a chauffeured minibus or coach for your next group trip!
Our Call Center operates 24 hours a day and every day of the year. Our vehicles are immediately available even in the case of extreme urgency.
Request our bus / minibus / minivan hire with driver or delivery services immediately the BOOK NOW or just WRITE EMAIL. You will find our prices are competitive and have no supplemental fee for the reservation.
Go to the BOOK NOW section to free calculate the cost of your coach hire with driver, reserve and you can pay directly! Our coach hire rental with driver services can also be booked through the GTLM Limousines free APP that you can download from the APP STORE e GOOGLE PLAY , or by phone 00421 948 882 443 or email booking@gtlm.sk.