Airpor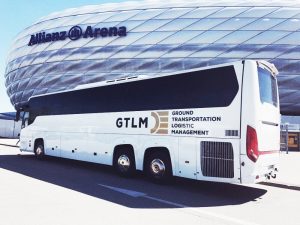 t pickups sometimes can be chaotic especially if you are travelling in groups. We aim to simplify your airport pickup as much as possible as every airport has its own procedure of boarding on the coach. Our professional drivers provide Meet and Greet assistance which ensure a quick and hassle-free exit from the airport.
Our fleet of 8 to 57 seater minivans, minibuses and coaches are available for return journeys, as well as single transfers to any major transport hub not only in Slovakia. To accommodate those particularly larger groups, we have ensured that all of our vehicles are equipped with large spacious boots, allowing for luggage to be transported with ease.
All of our airport transfer and railway station transfer services are provided with a highly skilled driver, trained to the highest level, with a knowledge of Bratislava's roadways. Our driver will provide a contact between us and you throughout the duration of the journey will be happy to assist you in any way possible, helping to ensure that you and your party make your connection safely and on time.
When requesting a free quotation for airport coach hire, please do bring to our attention if the group will have any additional luggage requirements, in order that we can be sure to offer the appropriate vehicle with sufficient luggage capacity.
We want to make your journey with us as comfortable as possible. That's why we listen carefully to your requirements, and provide the most suitable vehicle for the job. When you make your booking, we will ask for your group size. Unlike taxis and public transport, we also offer plenty of separate space for your luggage, so there's no need to pack light!
Our airport or train transfer service is the most practical and comfortable way to get to and from any airport, station or port. Whether you're off for a holiday or on your way back from an overseas business conference, we can provide punctual, spacious and pleasant transport for your group – a stress-free start and end to any trip.
For more informations contact us by email or call us: 00421 948 882 443. We are looking forward to you!